Miodowe Wzgórze Estate
in Tarnowskie Góry
In the most attractive locations of Silesian cities, we create estates of energy-efficient houses - detached and terraced. We implement innovative solutions that effectively reduce maintenance costs. We take care of the optimal spaciousness of rooms to ensure maximum living comfort for both large families and individuals. Our houses and apartments are always built in family-friendly locations, surrounded by walking trails and close to public transportation stops.
On the border of the center of Tarnowskie Góry and the Opatowice district on Emanuel Biskupek Street, a CLOSED estate of 22 energy-efficient terraced housing units is under construction:
First segment:
5 apartments with an area of 73 m2 with a garden from 62.7 to 166.3 m2 (without a terrace),
5 two-storey apartments with an area of 135 m2 with a balcony,
Second segment:
6 apartments with an area of 48 m2 with a garden from 38.8 to 203.63 m2 (without a terrace),
6 two-storey apartments with an area of 91 m2 with a balcony.
Interactive selection of premises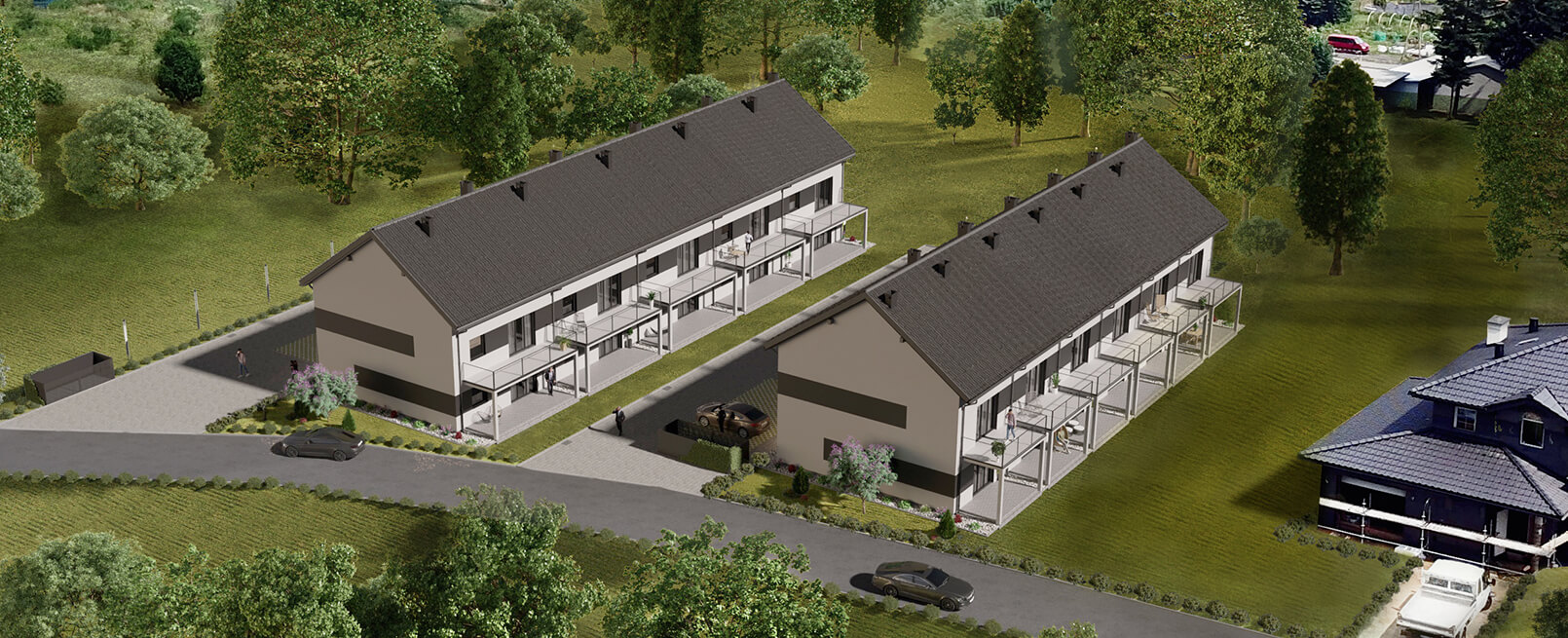 Available
Available soon
Booked
Sold
Local amenities
Tarnowskie Góry is a city filled with opportunities. Residents of Miodowe Wzgórze estate will be able to enjoy easy access to the comforts of city life, thanks to the proximity of stores, schools, restaurants and entertainment venues, while also enjoying the advantages of numerous recreational areas. An additional benefit is the location near the region's major roads.
A short distance from the national roads 11 and 78 will ensure smooth communication with the entire Silesian Agglomeration. Within 10 minutes you will be able to reach the A1 Highway.
The estate is 3 minutes away from the Tarnowskie Góry Shopping Center, where you will find everything you need. The community center is located just 1 km away, within Przyjaźń estate in Tarnowskie Góry. There you will find nurseries, kindergartens, elementary school, clinics and pharmacies.
Miodowe wzgórze – wyjątkowe miejsce do życia
Nazwa inwestycji jest nieprzypadkowa. Patron ulicy – Emanuel Biskupek – był współzałożycielem Stowarzyszenia Pszczelarzy Śląskich w Tarnowskich Górach, które powstało 1920 roku oraz jego pierwszym prezesem. Aby uczcić jego pamięć i zamiłowanie do natury, postanowiliśmy stworzyć Osiedle, które będzie funkcjonować w harmonii z otaczającą przyrodą. Pozwalają na to między innymi wykorzystywane do budowy nowoczesne i ekologiczne technologie. Dzięki nim tworzymy przyjazne środowisku, energooszczędne budynki.
Do you have further questions?
Want to know additional details regarding this investment? Give us a call!