Manufacturer of houses and buildings
BOX HAUS
Do you want to fulfill your dream of a perfect home? You can count on us!
Are you looking for comfortable and functional premises for your business? We can help you create the space you need.
Are you a developer seeking new ideas and inspiration or planning to invest in real estate? Check out our designs and technology solutions.
Or perhaps you are operating in the construction industry as a supplier? Contact us now and gain a reliable partner!
Why BOX HAUS prefabricated houses and buildings?
BOX HAUS houses are a combination of knowledge and practical experience that we have gained from more than 20 years of presence in the prefabricated house market. We help our customers fulfill their dreams of having their own home... and not just any home! The pillars of each of our projects are energy efficiency, modernity and environmental sustainability.
During the implementation of the project, we use only the highest quality certified materials from proven manufacturers, and each stage of construction is supervised by the best professionals who make sure that all work is performed at the highest level.
What are
ZERO-ENERGY houses
Zero-energy houses are buildings equipped with modern technologies such as a photovoltaic installation, recuperation system and heat pump, which, together with a properly prepared building and installation design, make the house itself able to generate energy needed to heat the house. Thanks to this, the demand for external energy is practically non-existing.
How are our houses made?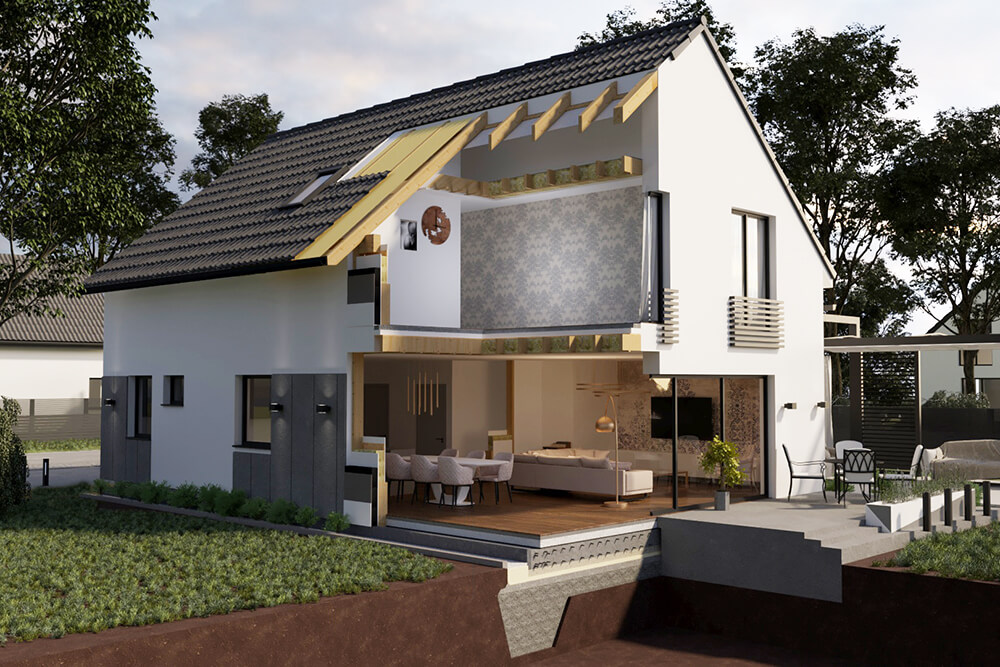 1

Foundation plate

The foundation plate on which we build BOX HAUS houses consists of several layers, so that the base of the building is solid and properly insulated. At the very bottom there is layer of aggregate and sand. The next layer is XPS polystyrene, which acts as thermal insulation, and is additionally covered with a hydro-insulating film. The next layer is reinforced concrete with a minimum thickness of 15cm. In the final phase of construction, an additional layer of EPS polystyrene foam and cement screed is applied.
Wall section
The core of our prefabricated walls is high-quality KVH structural timber characterized by high strength and low thermal conductivity. In addition to it, Fermacell gypsum-fiber structural board and Knauf Naturool Pro wool are used, as well as DORKEN DAWI GP vapor barrier film. On the outside, the thermal insulation layer is made up of 12cm thick Termoogranika facade polystyrene foam together with STO adhesive and plastering system.
Ceiling section
The ceiling in BOX HAUS houses is a structure built using the same KVH structural timber as the walls. The insulation is provided by Knauf Naturoll Pro mineral wool. The underside of the structure is sheathed in gypsum boards, creating a ready-to-paint ceiling finish. Importantly, as one of the very few on the market, the ceilings we create are topped with screed. The combination of these elements creates a layer that provides a warm and well-soundproofed horizontal partition.
Facade
In the case of exterior walls, which are the foundation of a house facade, Sto Prefa Armat reinforcing compound is applied to a 12 cm thick layer of Styrofoam, followed by Sto Glasfasergewbe F concealed mesh. The entire structure is coated with Sto Ispolit K decorative plaster. The result is a robust and aesthetically pleasing house facade, and the use of products from a proven manufacturer guarantees its durability for many years to come.
Roof construction
We offer houses with a choice of three different types of roof construction. These include a standard roof truss, a prefabricated truss structure and an attic roof structure. Each of these structures is made of KVH wood and is protected with a mineral wool insulation layer. In the case of pitched roofs, we use a windproofing membrane and concrete tiles for construction. For flat roofs, however, we use an EPDM membrane.
Modern infrastructure
and production line
The quality we achieve in the construction of our houses and buildings is the result of a combination of several factors - years of experience, the commitment of our crew as well as the use of the best available technology. The later point allows us to dramatically increase our efficiency. Modern machinery allows us to produce solid and reliable buildings in a relatively short period of time, significantly reducing production costs. Because of this, we are able to offer the highest quality at the best price available on the market.
Investor's
cooperation
Cooperate with BOX HAUS
Our offer consists primarily of houses - both completed projects, which you can find in our catalog, as well as those explicitly prepared in accordance with the visions of our clients. In addition, we also construct functional buildings for companies and public facilities such as schools, kindergartens, clinics or offices. Depending on your needs, we help you customize the project so that the final result best suits the investor's needs and harmonizes with the purpose of the building. Whether you are planning to build a family home, want to invest in the construction of an estate, or are getting ready to create a new headquarters for your company - we are here to support you.
What kind of buildings do we construct?
Single-family and
multi-family houses
House and
apartment estates
Public utility buildings
Partner of Your Investments
Fulfill your dreams
Together with
BOX HAUS


individual projects

Didn't find the house of your dreams among the projects in our catalog? Nothing is lost! Contact us - together we will prepare a project that will meet all your expectations, both technical and aesthetical. Tell us what you need and expect from the perfect house, and our design team will prepare a personalized project with your requirements in mind. You can take inspiration from our existing projects or create something from scratch - it's all up to you.
The newest investments
If you are looking for an ideal place to live and you want to settle in a new solid house that functions in harmony with nature, we encourage you to familiarize yourself with our investments. We believe that our offer will satisfy all those who are considering a purchase of their own four corners.
Advantages of our houses
Wondering what benefits you can gain by choosing BOX HAUS? First of all, the certainty that your home will be completed to the highest standard with attention to the smallest details. Besides, thanks to the use of energy-saving technologies, it will guarantee you low maintenance costs, and all of this in an aesthetically pleasing form and in harmony with the environment!
Energy-efficiency
Ecology
Wooden construction
Zero-energy houses
20 years of experience
Aesthetics
Modernity
The highest quality
20 years of experience
Since the beginning of our activity on the market, we have had the pleasure of building several hundred houses in Poland and the European Union. These were both houses for individual clients and public buildings such as kindergartens and offices. We have completed small houses as well as large multi-family buildings of over 500 m2. The multitude of completed investments makes us capable of meeting practically any challenge.
Fulfill the dream of your own home
with ERDOL HAUS
Do you want to build a comfortable and energy-efficient house quickly and for little money? Do you like minimalism and simple forms? Ecology and functioning in harmony with nature are important to you? Then be sure to check out our ERDOL HAUS brand of prefabricated houses! You will find these prefabricated house projects at an exceptionally favorable price, which combine what is most important - providing your own space fully adapted to the needs of our customers through an individual configuration, in which everyday life is comfortable and modern solutions generate savings!

See how our projects came to life
We believe that the best testimonials of our work are completed projects and opinions of customers satisfied with the results, so we strongly encourage you to familiarize yourself with the gallery of our implementations - see now how your new home can look like!