Lipowa Estate
in Łaziska Górne
An estate of 6 energy-efficient terraced apartments is being built at Lipowa Street in Łaziska Górne (Łaziska Średnie district). The building will include 4 apartments with an area of about 60 m2 each and 2 apartments with an area of about 40 m2. The ground floor apartments have their own garden for exclusive use. In turn, apartments on the first floor have their own private terrace. The price of each apartment includes a photovoltaic installation and 1 parking space.
The investment has been completed - collection of the apartment is possible immediately after signing the notarial deed.
Interactive selection of premises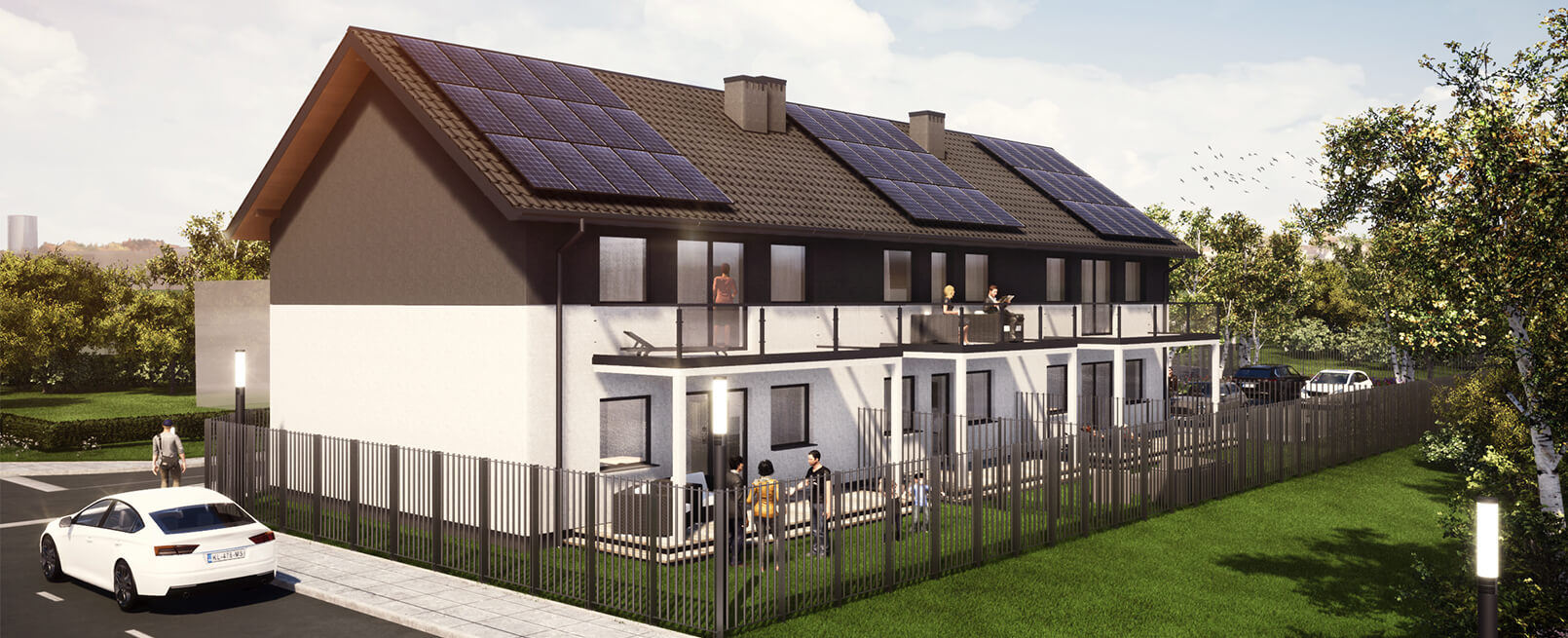 ⨯
Premises:
Storey:
Area:
Number of rooms:
Gross price:
Availability:
Available
Available soon
Booked
Sold
Local amenities
2 minutes walk from the estate will get you to the nearest store and school. In 10 minutes you will reach the nearest fitness club. If you are moving by car in 3 minutes you will find yourself on the national road 81 (Wiślanka), and in 20 minutes in the center of Katowice.
Dlaczego domy szkieletowe Box Haus
W najatrakcyjniejszych lokalizacjach śląskich miast tworzymy osiedla energooszczędnych domów – wolnostojących i szeregowych. Wdrażamy nowatorskie rozwiązania, które pozwalają skutecznie obniżać koszty eksploatacji. Dbamy o optymalną przestronność pomieszczeń, aby zapewnić maksymalny komfort mieszkania zarówno dużym rodzinom, jak i pojedynczym osobom. Nasze domy i mieszkania powstają zawsze w miejscach przyjaznych rodzicom z dziećmi, w otoczeniu szlaków spacerowych, w pobliżu przystanków komunikacji miejskiej.
Poznaj najlepszy standard
Budynki wykonane są w podwyższonym standardzie deweloperskim z najwyższej jakości materiałów - elewacja styropianowa z tynkiem STO, prefabrykowana konstrukcja ścienna, wełna mineralna 12 cm ISOVER, płyty OSB bez formaldehydu, płyty GK ogniochronne. Okna pasywne (trójszybowe, U mniejsze od 0,8) i nowoczesne drzwi wejściowe MIKEA. Posadzki wykończone są wylewką cementową (na parterze i piętrze), a budynki oddzielone są dylatacją - nie przenoszą się dźwięki z sąsiedniego budynku. Dach pokryty jest dachówką cementową BRASS, a tynk na zewnątrz jest nowoczesny, trwały i łatwy w utrzymaniu czystości. Wszystkie mieszkania posiadają ogrzewanie elektryczne i zbiorniki na ciepłą wodę ATLANTIC. Mieszkania są bardzo tanie w utrzymaniu.
Do you have further questions?
Want to know additional details regarding this investment? Give us a call!